Van (het land van) Nescio naar (het land van) Ter Balkt. Met een omweg. De onverharde route. Amsterdam – Almelo door het bos. Via de knooppunten. (Grotendeels dan. En iedere keer dat ik afweek ging het mis. Voorbij Wageningen dacht ik: beetje opschieten en reed vervolgens de Market Garden-herdenking in, een drukte van WO II-fanaten die zich wentelden in valse oorlogsnostalgie. Gauw linksom terug en wegwezen). Wilde 200 rijden. Of back-to-back 2×200. Was natuurlijk te laat vertrokken. Laatste 20 minuten in het donker. De route over de Utrechtse Heuvelrug is prachtig. Fietsen door dit stuk Veluwe valt me iedere keer weer tegen. Voorbij de Koningsweg wel mooi. Twente blijft favoriet. (Op bezoek bij mn moeder).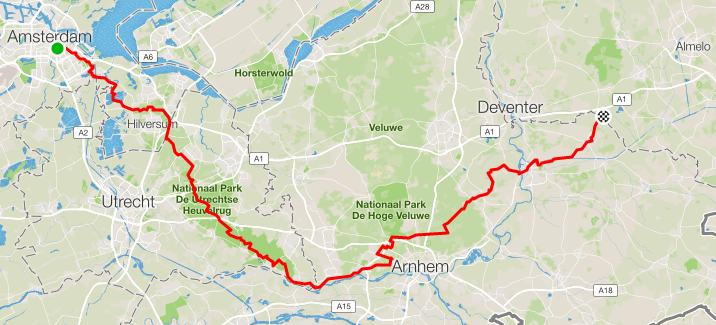 0 Comments
RSS for comments on this post.
sorry, the comment form is closed at this time.