1020 / 56 / 3.40
Montferlandherfstvakantietochtje
Een echt vakantietochtje. Zaterdag, zon en nauwelijks wind. Eerst nog koud, later zo warm dat je in de zon aan de RIjn kon zitten. Met R. voorop op mn stadsfiets (ja ook omhoog bij Hoch Elten), en F. op een gehuurde elektrische fiets. 60 kilometer, daar doe je dan de hele dag over. De bedoeling was om met het veer bij Millingen de Rijn over te steken en dan via Emmerich terug. De Rijn stond zo laag dat de veren uit de vaart genomen waren.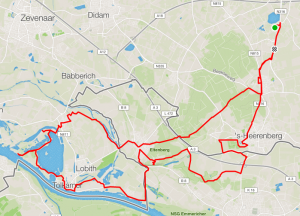 1021 / 83 / 3.20
Isselburg
Om de een of andere reden trok de naam Isselburg me. Zondagochtend. Eerst nog fris. Veel zon. Weinig wind. Eerlijk gezegd is dat stukje Achterhoek wel saai. Bij Gendringen en Isselburg is het dan weer mooi. Net te weinig tijd om nog via Hoch Elten te rijden, nog wel genoeg om even heen en weer wat extra kilometers in Montferland te maken. Heerlijk gereden.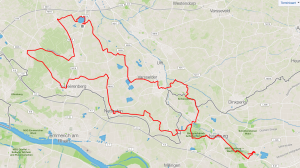 1021 / 21 / 1.30
Zeddam en nog een rondje
Later in de middag. Met R. voorop, stadsfiets, en F. Molen in Zeddam. Klein rondje. Dan terug.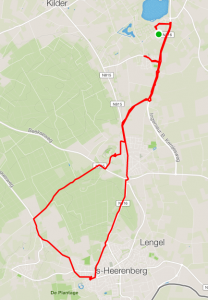 1022 / 50 / 2.10
Emmerich en Hoch Elten
Via de mooiste route heen en terug door Montferland en even de RIjn over. Nog een mooie dag. Nog een dag zon.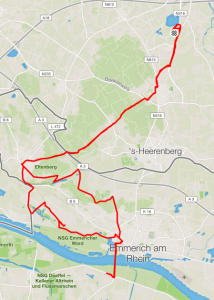 1023 / 38 / 1.40
Dwars door Montferland
Heen en weer de mooie en nog niet gereden stukjes aan elkaar rijgen. Aantrekkende westenwind, flink koeler en bewolkt. Maar geen regen.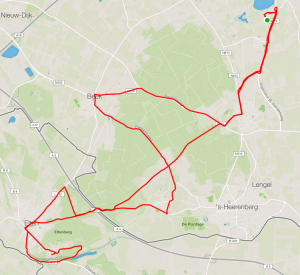 1024 / 32 / 3.00
Emmerich en Hoch Elten
Rondje met mn moeder (79) die voor het eerst op een elektrische fiets reed. En ik op de stadsfiets met R. op het zadeltje voorop. Naar Emmerich, Hoch Elten en dwars Montferland door. De zon kwam er zelfs door, redelijk wat wind, 13 graden. Uitstekend herfstweer.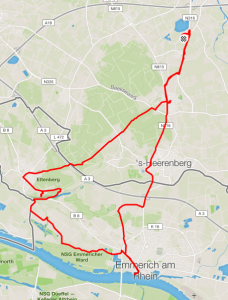 1025 / 50 / 2.10
Elten als middelpunt
Nog een keer dwars door Montferland. Aaneenrijgen van een paar stukjes nieuw en de mooiste stukjes. Laatste keer. Grijzig maar droog en met 13 graden niet koud.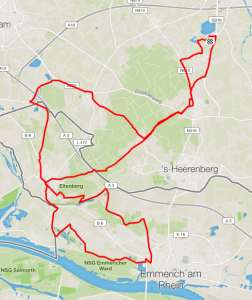 1025 / 45 / 2.45
Doesburg – Hoog Keppel
Grijzig, zelfs heel even een beetje miezer. Maar een prachtige tocht op de stadfiets met R. voorop, en F. op de elektrische fiets. Omdat Duitsland trok wilde ik de hele week niet deze kant op. Had misschien toch een keer hierheen moeten rijden. Onder Wehl was het mooi, Doesburg ook, en bij Hoog Keppel ook (maar dat wist ik al).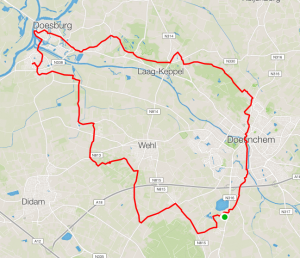 0 Comments
RSS for comments on this post.
sorry, the comment form is closed at this time.