Ooit moet ik ze toch gaan draaien, waarom niet vandaag. Mijn Coltrane-LP's. Ik heb er een paar. Waaronder de beroemde Atlantic-LP My Favorite Things. Deze kraakt behoorlijk, blijkbaar toch veel gedraaid, al was ik er extreem zuinig op. Ik kocht hem in 1985 of daaromtrent. Toen ik juist was begonnen met een ontdekkingsreis door de jazz die begon bij de Coltrane van 1960 en vanuit Coltrane terug in de tijd naar Parker (en een beetje Lester Young) en vooruit via Dolphy naar de hedendaagse geïmproviseerde muziek. Elke keer als ik deze opname van My Favorite Things hoor ben ik verbaasd en geïntigreerd. Oren gewend aan de latere uitbarstingen en Coltrane's veel intensere uitvoeringen is deze eerste zo ingehouden, precies en bijna voorzichtig. Heel gearrangeerd ook, met de basfiguurtjes die Steve Davis speelt (geen 'walking bass'), de aangehouden akkoorden van McCoy Tyner en het lichte drummen van Elvin Jones.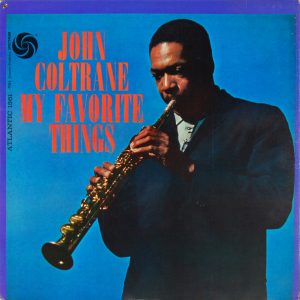 0 Comments
RSS for comments on this post.
sorry, the comment form is closed at this time.