Nog een keer. Toch. Fietsforenzen. Met herfstvakantiegevoel op een vrijdag zonder haast om de trein te halen. Naar Woerden via een andere route. Met hulp van buienradar en goed naar de lucht kijken precies die ene flinke bui ontwijken (heel even geschampt bij Diemen). De noordwestenwind bleek puur noord en veel harder dan verwacht. (Vast door die bui die net westelijk van mijn route bleef). Ook frisser, maar nog steeds uitstekend fietsweer. (Is oktober inderdaad mijn favoriete fietsmaand?)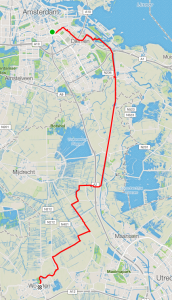 Welja, en waarom niet. Herfstvakantiegevoel toch? En vrijdag op kantoor. Niemand. Halve dag vrij. De zon schijnt, de buien zijn te ontwijken (nou, niet helemaal). Ja, de wind is noord tot noordwest en fris. Maar waarom niet? Tijd genoeg. Werk afmaken kan als het donker is of als het echt regent. Dus Rotterdam – Amsterdam met weer een iets andere omweg.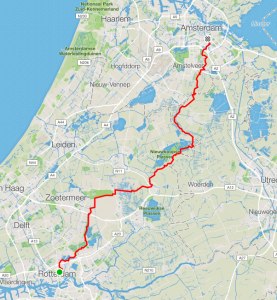 0 Comments
RSS for comments on this post.
sorry, the comment form is closed at this time.