Nog één keer – voor het weer te vroeg donker wordt. In Amsterdam brak de zon door de wolken, in Woerden hing de mist. Zware benen of was het de tegenwind (zuidwest)? Moe, want alweer hoeveel dagen met te weinig slaap? Ik miste de trein net. Als ik niet nog weer terug had gemoeten om iets te pakken, als ik niet mijn verkeerde schoenen had aangetrokken, als ik niet dat vliegje in mijn oog had gekregen, als de tegenwind net ietsjes minder was geweest, dan was ik precies op tijd.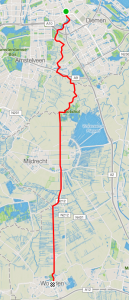 0 Comments
RSS for comments on this post.
sorry, the comment form is closed at this time.