0813 / 184 / 8.00
A big day out. Fantastisch weer. Zon, wolken, beetje zuidenwind, 18 graden. Een grote ronde door Sligo en Leitrim met de Truskmore – een van de lastigste klims die ik ooit deed – (of waren mijn benen nog zwaar van de Errigal? of was de versnelling niet klein genoeg?). Leitrim is verrassend mooi, en zeker op zondag ideaal fietsgebied. (Op Nivard's Trek Madone. Helaas: ik was zijn Garmin vergeten). (Dus waren het 180 kilometer, of 190, of meer?)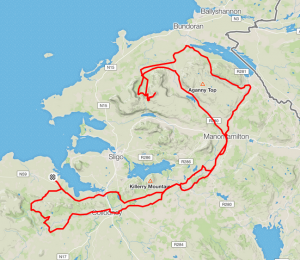 0814 / 127 / 6.30
Ox Mountains, Bricklieve Mountains, Arriga Mountains. Of: another big day out. 'Maar' 127 kilometer – ik keek veel te vaak op de kaart om de juiste route te kiezen. 90% over kleine landwegen, vrijwel geen verkeer en vaak gras in het midden. Schitterend weer: het klaarde op na een bui in de ochtend. Weinig wind, veel zon en een beetje wolken. 18 graden. Erg content met de gekozen route. Sligo en Leitrim zijn verrassend goed fietsgebied. (Had ik al gezegd). (De data van Nivard's Garmin: https://www.strava.com/activities/1135444199).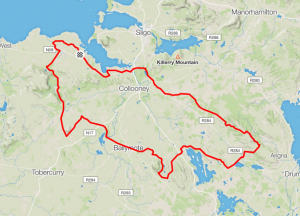 0815 / 93 / 4.00
Dinsdag. Derde rit in Sligo. Moest voor 14:00 terug zijn. De lukte op de minuut. Een paar regenbuitjes. 17 graden. 93,5 kilometer volgens Nivard's Garmin, in iets meer dan 4 uur, een kilometer hoogteverschil, een stukje meegereden met een clubje dat me richting Dromahaire achterop kwam, een cadans van 81 en een gemiddelde van 23. Het is deze: https://www.strava.com/activities/1135444225. Fijn gereden. (En kwam in Ballisadare Atlantic-coast fietser Stuart Lowe weer tegen – ik ontmoette hem eerder op de top van de Gap of Marmore: http://strudel.org.uk/RTWbike/blog/ – maar toen kwam ik uit een auto).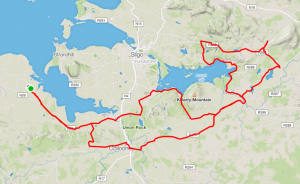 0 Comments
RSS for comments on this post.
sorry, the comment form is closed at this time.