Weer een rondje Duitsland, nu weer net iets verder. (F. ging met R. wandelen, oefenen voor de avondvierdaagse en ik schatte goed in dat dat wel even zou duren, namelijk een uurtje of vier). Reed weg in een stortbui – terwijl de ochtend stralend was. Kleddernat beginnen. 10 kilometer verderop was het droog, en de (verwachte) buien bleven beperkt (nog een halve bij Mander, nog een echte tussen Itterbeeck en Balderhaar). De timing was perfect: ik was tegelijk met F. en R. in Mariënberg en we aten er samen. De route ging over Sibculo, langs de Engbertsdijkvenen – van dat stuk begin ik steeds meer te houden – en dan richting dal van de Mosbeek, de hele Hooidijk, en dan wat kronkelen door Duitsland waarbij ik vast niet de beste heuveltjes reed (maar wel langs de grafvelden van Gölenkamp). Over Uelsen, Wilsum en Itterbeeck terug. Ik begin het gebied steeds beter te kennen. Nog een paar keer en ik rij er de ideale routes.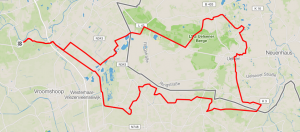 0 Comments
RSS for comments on this post.
sorry, the comment form is closed at this time.