Rondje Stelling. In ieder geval helemaal om Amsterdam. Ik miste ik een paar forten: Kwadijk, Edam, Botshol, Hinderdam. Toen ik iets serieuzer begon te fietsen, een jaar of 25 geleden, was het rijden van de hele Fortenroute het eerste dat ik me voornam om ooit eens te doen. Toen heette dat nog de Fortenroute, en was met rood-witte zeskantige bordjes bewegwijzerd. Ik ben er nooit aan toegekomen. En vandaag reed ik 'm, min of meer. Heb ik dat ook weer gehad. Ben ik daarvan af: van denken het zou leuk zijn om ooit de hele Stelling te rijden. -1 tot 3 graden. Mist, tot er om vier uur even een vage zon doorheem begon te schijnen. Eerst alles wit, en toen het begon te dooien vielen er stukjes ijs uit de bomen. Net als gisteren reed ik me vage plannen weg. Misschien de Stelling, misschien de duinen in, misschien naar Den Helder. Bij Leimuiden was ik toe aan wind in de rug. Dus de Stelling. Bij Spaarndam was de brug open waardoor definitief niet naar de duinen ging. Bij Purmerend wilde ik het niet te gek maken en reed ik niet naar Kwadijk. Toen ik eenmaal Amsterdam naderde en het donker werd besloot ik dat laatste lusje eraan toe te voegen. Net als gisteren niet geschakeld. Nauwelijks gezweet. (Een beetje in het begin omdat ik me te warm had gekleed). Draaien op het gemak. (Definitief bewijs dat ik een slechtweerfietser ben? Het lijkt wel alsof deze 170+ me minder moeite kostte als zo'n afstand in de zomer).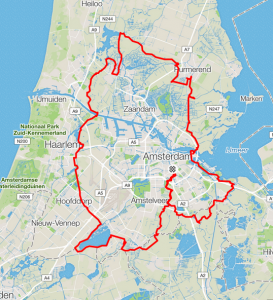 0 Comments
RSS for comments on this post.
sorry, the comment form is closed at this time.