F. en R. zijn in Ierland. Ik heb de tijd. Rondje van Kapitein IJsbaard (ijspegels van 10 centimeter in mn baard). Ik was van plan een fiks end te rijden, maar eerlijk gezegd zag ik het somber in met die dikke mist en -2 graden. Het eerste uur twijfelde ik nog steeds. Ik reed riching oosten omdat de mist daar minder dik zou zijn. Wat te doen? Rondje Stelling – met die mist? Richting oosten en de trein terug? De wind was zuid. (Heel zacht, maar maakte toch een flink verschil). En zo reed ik naar vliegveld Soesterberg. Nog niet geweest sinds dat een natuurgebied is. (Route klopt niet helemaal, van Strava mag ik niet een route maken met heen en weer op de landingsbaan. Dat krijg je als je zonder teller, slimme telefoon of ander GPS-apparaat rijdt). Temperatuur was net aan, -2. Overal mist, maar ten oosten van de Utrechtse Heuvelrug wat minder dik. Niet geschakeld. Niet gezweet. Lekker draaien: zo dat de lichaamsmotor warm blijft en niet moe wordt. Dit kan dus ook, gewoon 6 uur in de vrieskou fietsen. (Nergens was het glad). (En de hoogspanningsleidingen knetterden en zongen.) En die 144 is een schatting gebaseerd op de Strava-route en de goed zes uur rijtijd. Zou ook zomaar 150 kunnen zijn. Of 140. (En wie dacht dat dit wat voorstelt: Tim Krabbé rijdt vandaag met de Windjammers lekker om het IJsselmeer. 280 kilometer. Als ik het niet dacht).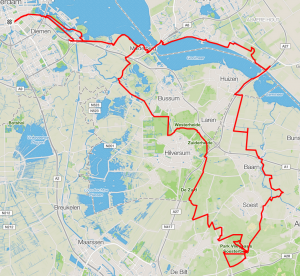 0 Comments
RSS for comments on this post.
sorry, the comment form is closed at this time.