Ja die heb ik. Deel twee van de vroege pianowerken van Satie, uitgevoerd door Reinbert de Leeuw, de Philips LP. Ik kocht hem toen ik nog bij mn ouders woonde, 1982 of '83. Wat me opvalt is dat op al die klassieke LPs niet vermeld staat wanneer de opnames plaatsvonden, en ook niet waar. Ergens staat heel klein 1980. En het is een Harlekijn-opname. Discogs zegt 1976. Voor zover ik weet worden Reinbert de Leeuw's uitvoeringen inmiddels als niet de meest 'correcte' beschouwd, en ik lees dat hij ze zelf vreselijk vind, maar dit is zonder twijfel de Satie die velen is bijgebleven.
Ik heb er nooit veel naar geluisterd. En het is de eerste keer in misschien wel 20 jaar dat ik deze LP opzet. De Ogives bieden een heel vreemde toegang tot een persoonlijk verleden dat er maar even was en dat nooit heeft doorgewerkt. De Gymnopedies zijn stukgespeeld (en de reden waarom ik deze LP nooit meer opzette), maar klinken me toch weer als nieuw – zo langzaam is deze uitvoering. De Sarabandes herinner ik me nauwelijks.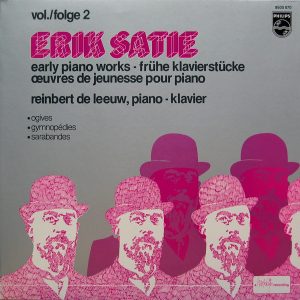 0 Comments
RSS for comments on this post.
sorry, the comment form is closed at this time.