Ik heb 'm gekocht. Ik kreeg 'm vandaag geleverd. De verengelsing van Arno Schmidt's Zettel's Traum. Ik moest hardop lachen toen ik 'm opensloeg. Zo onwaarschijnlijk is deze uitgave. Zettel's Traum, het meest ondoordringbare boek van Arno Schmidt, zelfs onder Schmidt-fanaten verreweg het minst gelezen. Zelfs volgens sommige Schmidtfanaten een mislukt en fysiek bijna onleesbaar boek. (Toen een paar jaar geleden de eerste gezette druk uitkwam – daarvoor was er alleen de facsimile van het typoscript – was er even veel aandacht en begonnen mensen enthousiast aan het leesavontuur. Maar iedereen die er over blogde hield er binnen een paar bladzijden mee op. Ik heb een pagina of vijftig gelezen.) De significantie van onderwerp weegt niet op tegen de lengte en moeilijkheid van de zinnen.
Toen ik las dat de Amerikaanse Schmidt-vertaler John E. Woods – die bijna al het late werk al eens overzette – nu ZT had vertaald, en dat – onwaarschijnlijk – Dalkey Archive press het uitgaf… bestelde ik het. Waarom? Toch ook omdat ik benieuwd ben wat Woods van de vertaling maakt. ZT is (ook) een boek over vertalen, de hoofdpersonen discussiëren uitgebreid het overzetten van Edgar Allan Poe uit het Engels naar het Duits. Het boek zit vol literaire allusies naar een gedroomd Duits dagelijks leven. Elk woord is een woordspeling. En dat omzetten naar Engels? ZT is ook nog eens 10x zo lang als Finnegans Wake. En nogmaals: Dalkey Archive heeft het uitgegeven. Het boek is zowat netzo zwaar als mijn dochter.
64 euro bij de verzendboekhandel. (Goedkoopste nieuwe boek per kilo?)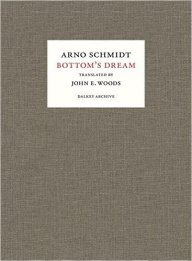 En toch meteen zin om verder te gaan in het Duits van ZT. (Maar dit boek fysiek lezen – alle letters en woorden en zinnen (over 3 kolommen) verwerken – vereist een jaar eenzaamheid in totale Schmidt-monomanie. Of een over 20 jaar doorgezette inspanning van iedere dag 20 minuten ZT lezen). (Ik heb het niet precies uitgerekend).
En het is Schmidt zelf die in één van zijn essays uitrekent hoeveel boeken hij nog kan lezen, als hij nog 30 jaar te gaan heeft.
Weinig.
Ik weet nu al dat ik ZT nooit zal lezen. En Bottom's Dream helemaal niet.
(Waarom is dat een punt, terwijl het nooit zullen lezen van Gottfried Keller's Grüne Heinrich – ik las 1/3 – of een roman van Stephen King geen punt is?)
Zijn de enigen die Bottom's Dream helemaal gelezen hebben Woods en zijn proofreader?
Zullen de algoritmes van Google dit boek lezen als de PDF wordt geupload? En wat zullen ze ermee doen?
(Netzo idioot als het ordenen van 9.000 epubs en pdfs die je nooit zult lezen).
0 Comments
RSS for comments on this post.
sorry, the comment form is closed at this time.