Easily mijn LP met de slechtste geluidskwaliteit. (Heel dik vinyl van Vocalion, uitgegeven door Vogue Records in Londen, maar al voor ik 'm kocht grijsgedraaid, vol tikken en ruis). Je hoort Parker, maar bijna niks van de rest. Ik lees op de hoestekst dat Parker's kwintet vreemd genoeg geboekt was voor een enorme danszaal. Je hoort veel rumoer op de achtergrond. Alleen Parker's solo's zijn getapet, wat – volgens de hoestekst uit 1965 – het vermoeden wekt dat de opnames gemaakt zijn door Dean Benedetti. Of dat zo is weet ik niet. Wel dat die Benedetti-tapes een jaar of 10 of 15 geleden ineens opdoken. Anyway, Parker's spel is onwaarschijnlijk. (Ik weet geen ander woord voor deze 'Gelaüfichkeit' en ideeënrijkdom). Wel, door de geluidskwaliteit en omdat je alleen Parker krijgt (dus alleen thema – solo Parker – fours met Parker – thema) erg intens en wat vermoeiend luisteren.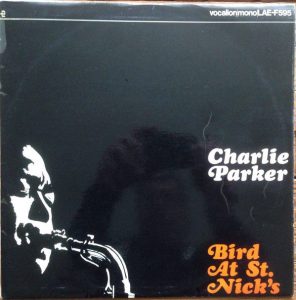 0 Comments
RSS for comments on this post.
sorry, the comment form is closed at this time.