Amsterdam – Rotterdam – Amsterdam bij heel mooi zomerweer. Bij vrienden op bezoek – op hun volkstuin. Prachtig nazomer, nee hoogzomerweer. Tussen half twaalf en kwart over twee rijd ik heen, met wind tegen. Voor mijn doen erg snel – met een stukje (Alphen – Zevenhuizen) achter een toerclub (die me eigenlijk net te langzaam reed). 's Avonds terug. Pas vertrek om half zeven. Maar zulk mooi weer dat ik eerst besluit over Bodegraven naar Woerden te rijden – bij Boskoop is het al donker – en vervolgens om het hele stuk te doen. Zachte zuidenwind. Heerlijk om zo het landschap te doorkruisen. Geen maan, dus echt donker. (Enig gevaar blijven die enkele tegemoetkomende auto's die groot licht voeren en je op slag stekeblind maken. Enige remedie is afstappen). Hoe warm was het? Om half zeven gaf een thermometer 27 graden aan. Later koelde het wat af en reed je soms even in kille koelte, om vervolgens onder bomen of in de beschutting van huizen weer in de warmte te rijden.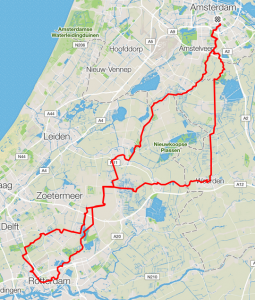 0 Comments
RSS for comments on this post.
sorry, the comment form is closed at this time.