In 1985 begon ik echt naar jazz en geïmproviseerde muziek te luisteren. Ik ging voor het eerst naar het BIMhuis. (Wat was mijn eerste concert? Het Paul van Kemenade kwintet of Elvin Jones' jazzmachine?) Ik ging naar de zaterdagmiddagconcerten in het Stedelijk. Daarvoor luisterde ik al naar Michiel de Ruyter's NOS Jazzgeschiedenis. (Ik herinner me zijn stem die de leden van de Duke Ellingtonband opnoemt, ik herinner me dat Thelonius Monk overleed, het was het jaar van 100 jaar James Joyce en Virginia Woolf: 1982. Ik was 16). Ik kende ook een paar LPs van John Coltrane.
In 1985 werd het Podiumtrio opgericht: Paul van Kemenade, Jan Kuiper, Wolter Wierbos. Ik had een tape met een liveoptreden dat van iets later is als deze LP – waar het trio super op elkaar is ingespeeld. Die tape draaide ik iedere week zeker 1 keer. Ik ken de thema's nog steeds uit mn hoofd. En als je me vroeg, wat is het beste trio in deze bezetting, dat van Zorn – Lewis – Frisell (met News for Lulu), of dat van Van Kemenade – Wierbos – Kuiper, dan antwoorde ik: de tweede, het Podiumtrio. Zoveel speelplezier, zoveel energie, zoveel passie, zoveel muziek. (En dit trio brengt het beste van alledrie naar voren).
(Hier zou een uitweiding kunnen volgen over waarom Van Kemenade's kwintet net 'minder' is, het 'pad' van Jan Kuiper, en waarom Wolter Wierbos van mijn radar is verdwenen terwijl hij midden jaren '80 zo'n beetje de beste trombonist van de wereld leek te zijn – of was). (Misschien is hij dat nog wel – maar ik heb hem al zeker 20 jaar niet meer live gehoord).
(Uh, toevoeging: ja, ik vind het Podiumtrio leuker zonder Jamaladeen Tacuuma en Cornell Rochester).
Enzovoorts. De LP kocht ik ooit op Koninginnedag.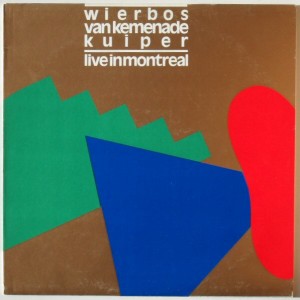 0 Comments
RSS for comments on this post.
sorry, the comment form is closed at this time.