George Lewis. In 1985 (was het 1985?) ging ik voor het allereerst naar een concert met hedendaagse geïmproviseerde muziek. In mn eentje (met wie had ik moeten gaan?). George Lewis en Gerry Hemingway op zaterdagmiddag in het Stedelijk. Ik zal het nooit vergeten.Lewis zittend, iets naar achteren. Hemingway achter zn drums. Stilte. Opperste concentratie. En dan: gaan! Lewis demonteert razendsnel zn trombone om vervolgens op mondstuk en losse buis geluiden te maken, Hemingway gooit theedoeken over zn drums en maakt daarop geluid, blaast de vellen aan. Enzovoorts. Ik moet ergens een tape hebben met de opnames die later op de radio werden uitgezonden. Ik herinner me dat er ook een tapestuk van Lewis op het programma stond. En hij improviseerde vrijwel zeker ook met het interactieve computerprogramma waaraan hij bij STEIM werkte. Hemingway – die ik later heel vaak live heb gehoord en gezien – deed ook een solostuk. De zaal was vol bij het begin, en liep leeg. De helft bleef. Ik was 'verkocht' – vanaf het allereerste geluid.
George Lewis neemt dus een speciale plek in mijn luistergeschiedenis in. Nog altijd is hij mijn favoriete trombonist. (Luister naar 'm in de kwartetten van Braxton, in de big band van David Murray).
Solo Trombone Record werd opgenomen in 1976 (Lewis was 24) – net na zijn tour met Count Basie (sic, Count Basie) – en ik vraag me af of ik er wel ooit goed naar heb geluisterd. Ik herinner met 'Piece for Three Trombones Simultaneously' als saai, en wat artificieel door de overdubs, maar saai is het geenszins. In Phenomenology zit hij heerlijk te 'jazzen' en Lush Life is schitterend. Toen ik de LP kocht luisterde ik heel veel jazz – van Lester Young tot Henry Threadgill. Misschien klonk trombone solo me te kaal? I like it now…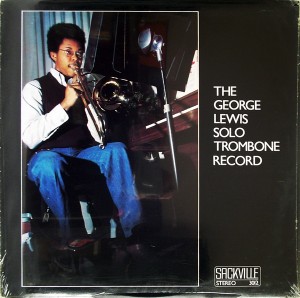 0 Comments
RSS for comments on this post.
sorry, the comment form is closed at this time.