Storm, windkracht zes, met harde windstoten, warm, 15 graden, zo nu en dan een regenbui. 15 km/u pal tegen de wind in, zonder moeite 50 met wind pal in de rug. Lekker, maar ik vind het veel te gevaarlijk om met zijwind tussen het verkeer te rijden. In de stad of met wat beschutting lukt dat wel, waar de wind vrij spel heeft is het link. Daarom rij ik rondjes door en om het Amsterdamse Bos – beschut. Door de modder en klieder. Fiets schoonmaken.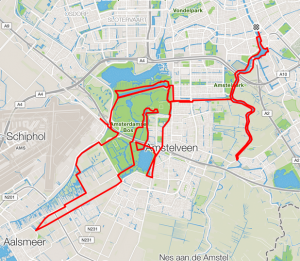 0 Comments
RSS for comments on this post.
sorry, the comment form is closed at this time.