Nog een juweel. Tweedehands gekocht voor bijna niets. Deze plaat is een wonder – misschien zijn latere 'conductions' van Butch Morris subtieler – maar wat hij hier voor klanken uit het ensemble weet te toveren is al ongekend. Deze muziek zou niet mogelijk zijn zonder Butch Morris, zou niet tot stand gekomen zijn uit een vrije improvisatie, evenmin uit het spelen van genoteerde noten. Opgenomen in 1985 in The Kitchen, met Frank Lowe, John Zorn, Brandon Ross, Zeena Parkins, Tom Cora, Christian Marclay, Eli Fountain, Curtis Clark, Thurman Barker, Yasunao Tone, en Butch Morris (directie). Die bezetting is ook al een wonder.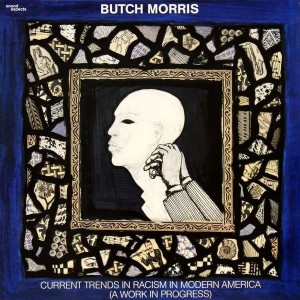 0 Comments
RSS for comments on this post.
sorry, the comment form is closed at this time.