Best concert of the year. Best show of the year. Minds were blown, the lives of some people were changed. Secret Chamber in the gym of the Nikel school. (Where's that? Nikel, Russia, Pechenga district. Look it up on the map.) With Love Cult (Ivan & Anya from Petrozavodsk). With Phonophani (Espen Sommer Eide). With the first ever live gig of TILMIL and Mnogoznaal from the Komi Republic. With Franz Pomassl. I cannot describe the emotional feel of it all. It was great. It was mind blowing. And think of the 14, 15, 16 year old kids from Nikel, who were following everything that Franz Pomassl did very very closely (making noise with loose contacts and fluorescent light, morphing into strange noisy acid house), and all coming to thank him and give him a hug after the event. It was unreal.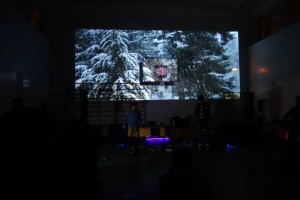 (TILMIL & Mnogoznaal, photo: Dark Ecology)
0 Comments
RSS for comments on this post.
sorry, the comment form is closed at this time.