Nog een boek dat al tijden lag te wachten om gelezen te worden. Ik was het alweer bijna vergeten. Jonathan Crary's 24/7: Late Capitalism and the Ends of Sleep. Gisteren gelezen. Tja, hij heeft natuurlijk volkomen gelijk in zijn schets van het 24/7-tijdsparadigma. Maar de manifeststijl (alles is een karakterisering van 24/7 en de uitwerking ervan) maakt het boekje ook eenzijdig. Het is nogal, euh, apodictisch? Is dat het juiste woord? Andere noemen het 'provocatief' en 'polemisch'. Ik denk: ah, het klopt allemaal, (en daarmee klopt het eigenlijk nu al niet meer), maar het mist nuance – met meer nuance krijg je een rijker boek. Voorbeelden van andere tijdsregimes, praktische voorbeelden vooral. Ook van hoe mensen hun tijd indelen. Ritme geven, of ritme ontkennen. Dat zou het rijker maken (in plaats van weer een analyse van Marker's La Jetee). Ook in politieke stellingname is het, hmm, wat aan de simpele kant. De simpele versie van de linkse kritiek op het 24/7 neoliberale denken – een analyse die ik grotendeels deel, maar dus, hmm, ook in deze vorm te simpel vind. En laat ik het zo zeggen: het boekje brengt mij weinig nieuws – maar dat is grotendeels omdat ik de lijnen die hij samenbrengt, al uit en te na ken. Dat is dus geen kritiek, het boekje biedt een uitstekende, pakkende samenvatting. En dus een perfect beginpunt voor wie al die lijnen nog niet kent. Want Crary's analyse van hoe kapitalisme, ons economsiche systeem en het tijdsregime van 24/7 de samenleving tot in de poriën verandert, deugt ondertussen wel degelijk. (En de verbanden met mediatechnologie). Eerste hoofdstuk is overigens het best.
(En ja, ik ben altijd een tegenstander van de 24/7 ideologie geweest. Ik vind nog altijd dat we er goed aan zouden doen om winkels en bedrijven op zondag verplicht te sluiten. Ik weet ook dat toen de zondagsopenstelling van winkels een politiek item was in Nederland, ik in mijn omgeving de enige was – oh, en mn moeder – die daarop tegen was). (Enzovoort, enzoverder).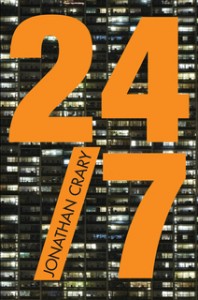 0 Comments
RSS for comments on this post.
sorry, the comment form is closed at this time.