Maandagochtend, op de Trek Madone van Nievard W. Kwart voor negen vertrokken, om één uur terug. Fantastisch fietsweer, eerst wat koel, en een beetje miezer, later een beetje zon. Perfect voor Ierland. Noordwestenwind. Schitterende omgeving en onwaarschijnlijk rustige wegen. (Alleen de main road heeft verkeer, maar zelfs dat is te doen). Via de 'unnamed road climb' naar Ladies Brae, over de Ox Mountains, dan de klim naar Lough Easky, naar de 'main road' en dan via Ladies Brae (normale route) weer omhoog en tenslotte via Hungry Rock terug.
(Routes van de An Post Tour of Sligo).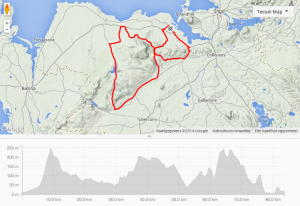 0 Comments
RSS for comments on this post.
sorry, the comment form is closed at this time.