Vrijdag. Kan de hele middag weg. Regen en onweer verwacht – ik heb alleen 10 minuten miezer en 5 minuten de grens van een heel zware bui. Elders hoosde het. 22 graden bij zon, maar meest bewolkt en 18 graden. Ik rij ver Duitsland in. Had, als ik een kaart bij me had gehad, een stuk verder gereden – naar Twist en Georgsdorf. Ik volgde min of meer de Vechtdalroute, reed wel eens verkeerd, en vond gelukkig het prachtige stuk langs het kanaal Coevorden – Piccardie. Route hier is niet helemaal goed. Geen tellertje op de fiets. Fietspad langs de Vecht bij Laar staat niet op de kaart. Andere stukjes kan ik ook niet vinden. (Böckelsberg). Ik was weg van 12 tot kwart voor 6. Niet gerust. Behalve voor het kijken op kaarten enzo. Zal een kilometer of 125 zijn geweest. (Oh, en ook nog per ongeluk aardig wat kunst gezien – het is nl. de route van Kunstwegen).
Camping – Mariënberg – Bergentheim – kanaal – De Haandrik – Laar – Vecht – Vorwald – kanaal – Neugladenfeld – Hoogstede – Glökenkamp – Uelsen – Geteloer Moor – Langeveen – Engbertsdijkvenen – Sibculo – Mariënberg – camping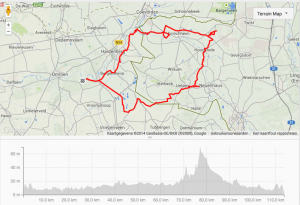 0 Comments
RSS for comments on this post.
sorry, the comment form is closed at this time.