Uitgelezen? Nee, dat niet – daarvoor ben ik toch niet geïnteresseerd genoeg in pagina's lange economische analyse. Ongeveer tot de helft helemaal gelezen – daarna gebladerd en de stukken die me interesseerden gelezen. Ik hoef hier niet te zeggen hoe belangrijk dit boek is, en wat voor waterscheiding Piketty's boek is (markeert?).
(Empirische economie na de decennia-lange dictatuur van economie als pure calculatie, sommetjes, wiskunde – waarbij ik altijd moet denken aan mijn leraar economie van de middelbare school die de meest basale wiskundige vergelijkingen zo beroerd wist uit te leggen dat zelfs de wiskunde-jongens-en-meisjes uit de klas er niks meer van begrepen).
Ik las het ook als complement van Moretti's studie The Bourgeois, Between History and Literature. (Het is andersom).
(In de LA Review of Books stond laatst een essay over Piketty en de literatuur van de 'second gilded age' (lareviewofbooks.org/essay/literature-second-gilded-age)– en wat er in Piketty ontbreekt (die hedendaagse literatuur), is ook wat er ontbreekt in Moretti's boek – let wel, als ik het me goed herinner, een 'ontbreken' dat door Moretti zelf vrij uitgebreid wordt aangehaald).
Een heel belangrijk boek.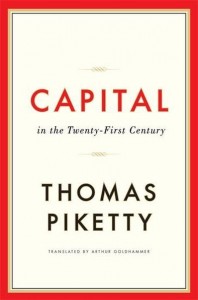 0 Comments
RSS for comments on this post.
sorry, the comment form is closed at this time.