Zou ik dit boek gelezen hebben als ik niet begin jaren negentig bij Perdu (Amsterdam) had rond gehangen, en als ik niet 'ns een paar woorden had gewisseld met Jan Kostwinder – die bevriend was met mensen die ik kende?
Afdaling naar het verleden – voor het 'internet'. 's Middags met thee of een biertje in de zon voor Perdu in de Kerkstraat. Rob B. die nachten lang Police Quest speelde op een toen al aftandse IBM. Dommelsch bier. Sigarettenrook. De kelder met de witte klapstoeltjes.
Zeker is: Kostwinder's essay over Raymond Carver is schitterend, en pijnlijk persoonlijk.
Ik hou niet van het werk van Raymond Carver.
Adem was destijds het uiterst sympathieke literaire tijdschrift waarvan Jan Kostwinder redacteur was. De 'derde weg' tussen Maximalen (terecht volledig vergeten – tenminste als dichter-bende) en euh, wat eigenlijk, 'Mallarmé'? Sympathiek – maar erg spannend was het niet. Ik kan me niet herinneren dat ik ooit werkelijk geïnteresseerd was in één van de stukken die in Adem werden gepubliceerd.
In al die oude Rasters viel veel meer spannends te ontdekken.
(En later op gopher, en het WWW).
In de woede die er uit sommige stukken van Kostwinder spreekt, kan ik me wel vinden. Maar over literatuur… het graaft toch niet heel diep.
Toch is het tragisch. Hij heeft het net niet gehaald. (Ja, wat dan? Wat heeft-ie niet gehaald?) Hij overleed in 2001. Alweer 13 jaar geleden.
Er staan drie polemieken in dit boek, alle even fel. Gericht tegen Zwagerman (nou en), Adriaan Morriën (wie? who cares?) en JP Rawie (pfff). Het zou wat. Het stuk waarin Kostwinder zijn poetica uiteen zet, zit vol met persoonlijke geschiedenis – en al heeft hij volledig gelijk, over literatuur gaat het niet echt.
Ik blijf maar die studentenflat in Diemen voor me zien. (Had hij daar nou gewoond?)
Maar het stuk over Carver is ontzettend goed.
(Ok, ik zal zijn gedichten eens lezen).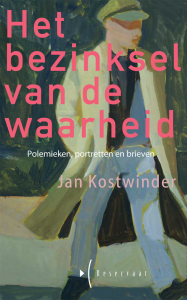 0 Comments
RSS for comments on this post.
sorry, the comment form is closed at this time.