Zo vanzelfsprekend is het meeste dat Moretti doet. Hier verwachtte ik vooral oppervlakte-analyse, gebaseerd op veel data, die inzicht oplevert in de ontwikkeling van de literatuur en de (zelf)definitie van de middenklasse, de bourgeois. Dat zit er in, maar er is ook veel meer. Stilistiek, van een soort die eind jaren zeventig afgeserveerd is, maar in een andere vorm (met 'big data'-analyse) terugkeert en inzicht oplevert, of ondersteuning voor hypotheses en cliché-veronderstellingen – of deze juist ondergraven. Simpel, maar niet simplistisch. En in dit boek ook tekstinterpretatie. Omdat ik geïnteresseerd ben in de culturele transformaties lees ik dit graag – de transformaties komen in beeld door Moretti's onderzoek. (En het beeld dat de bourgeois / burger van zichzelf schept). Sympathiek & goed: er is steeds ruimte om je af te vragen of je het wel eens bent met Moretti's uitgangspunten en methodes, er zijn op elke pagina kansen om wat hij vindt (in dubbele zin) te nuanceren of een andere richting te geven.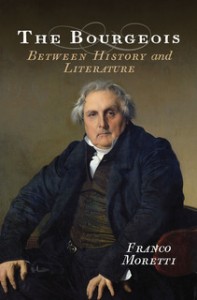 0 Comments
RSS for comments on this post.
sorry, the comment form is closed at this time.