Leesgedrag – niet een lijst uitgelezen boeken, zeker geen recensies. Losse notities die enkel proberen vast te houden wat ik deed. Dinsdagavond – ik ben naar de bibliotheek geweest. Leesavond. (Zeldzaam).
Rancière-vertaling, Het esthetische denken. Zo'n beetje helemaal doorgewerkt (plus soms wat moeizaam geschreven maar inzichtelijke uitleiding van Sudeep Dasgupta). Nee, ik zal nooit Rancière-liefhebber worden. Ik begrijp zijn punt, ik begrijp waarom anderen – vooral in de kunst – hem inspirerend vinden. Zelf blijf ik er nogal lauw onder. Dus ook geen zin om hier een betoog te houden over wat en waarom.

A.H.J. Dautzenberg: En dan komen de foto's. Omdat ik geen tevee kijk, en verder ook nogal matig op de hoogte ben, heb ik het 'fenomeen' Dautzenberg gemist. Dit is het eerste boek van 'm dat ik 'lees' (doorwerk, scan, een stuk of wat verhalen lees ik helemaal, andere blader ik door). (Ik heb het boek niet gelezen, maar niet gelezen heb ik het ook niet). Geen zin in meer – en toch weet ik dat ik al zijn andere boeken van de bibliotheek zal lenen en op zn minst deels zal lezen. Type: zweep (die d'r nodig 'ns overheen moet). Geen psychologie: fijn. Onderwerpen waar ik niks mee heb: minder.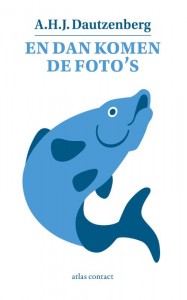 Roland Barthes: The Neutral. Gebladerd. College-aantekeningen. (Nauwelijks te lezen – maar vol interessante hints. Moet bestudeerd worden – maar niet door mij, denk ik).
Philip K. Dick: A Maze of Death. Eerste pagina's. Zat er wel meteen 'in'.
0 Comments
RSS for comments on this post.
sorry, the comment form is closed at this time.