Als verslag. Want anders ben ik het zelf binnen een week vergeten. Ik las zo'n 150 pagina's uit Christa Wolf's Ein Tag im Jahr, 1960 – 2000. Ieder jaar de 27e september nauwgezet beschreven. Boeide me aanvankelijk – vooral het dagelijks leven, opvoeden van de twee kinderen, de strijd om concentratie en tijd te vinden voor het schrijven. Christa Wolf's werk heb ik verder nooit gelezen. Het boeide me niet. De DDR boeide me niet, de moeizame verhouding tot het 'systeem' boeide me niet, de vorm van engagement boeide me niet. Dat interesseert me nu meer. Maar na 150 pagina's begon ik het op te geven. Las nog wat vooruit, las wat van de laatste jaren. Het boeide me niet meer. Wat een moeizaamheid, die problematiek, verstrikt in een systeem en toch willen blijven geloven in een maatschappijvorm die je (zo lijkt het toch) zelf geen goed doet. Moeilijke positie, zeker onterecht om het zo af te serveren, waarschijnlijk de moeite waard om echt door te denken en je in te verdiepen. Maar nee, dat is niet voor mij, dat is voor iemand anders. (En ergens ook een gevoel dat er fundamenteel iets mis is in dit boek – een onoprechtheid, een angstig verzwijgen – bij alle pogingen om eerlijk en oprecht te zijn).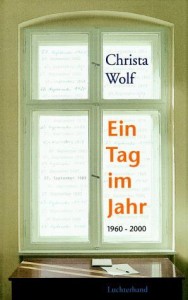 Ook doorgelezen, de Open over autonomie. ('In een tijd van ideologische en politieke crises, waarin mensen en dingen meer op zichzelf worden teruggeworpen, gaat van autonomie een hernieuwde aantrekkingskracht uit.') Vooral om te zien of ik iets had gemist… Of niet. Niet echt. (Neemt niet weg dat het een mooi nummer is – en zo'n beetje alles wordt gecoverd).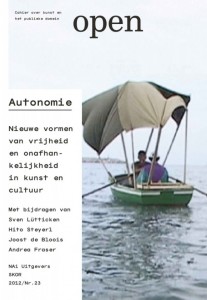 0 Comments
RSS for comments on this post.
sorry, the comment form is closed at this time.