Prachtig weer, 12 graden, wolken en zon. Als de zon schijnt lenteachtig. Zuidwestenwind. Tweede helft middag, 14.30 – 17.00. Voor het eerst sinds oktober weer op mn Ger – even wennen, maar het blijft mn beste fiets.
Het stuk via Mijdrecht rij ik bijna nooit – ik denk dat ik een deel van de Oosterlandweg zelfs nog nooit had gereden. Niet de mooiste route, maar wel een fris en nieuw uitzicht.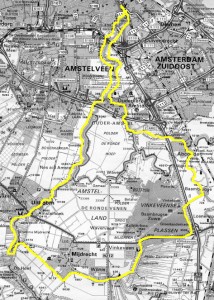 2 Comments
Je kan ipv de Oosterlandweg beter de Westerlandweg kiezen. Prachtige streep door het polderland!
Of sla halverwege de Oosterlandweg noordoostwaarts de Tuinderslaan in. Deze weg loopt over in een prima fietspad over het dijkje van de Kerkvaart dat overloopt in het gelijknamige straatje en eindigt midden in het bruisende "centrum" van Mijdrecht.

groet, Michiel (geboren en getogen in Mijdrecht)

Hee Michiel,

de Westerlandweg ken ik uiteraard – die neem ik normaal gesproken (als ik ns niet langs de Kromme Mijdrecht wil rijden). Dat fietspad ga ik ns proberen!
RSS for comments on this post.
sorry, the comment form is closed at this time.