Was jarig. Kreeg geld voor een cadeau. Besloot dan eindelijk ns Werkgruppe II en III van de Bargfelder Ausgabe te kopen, ook al heb ik het meeste (en belangrijkste) al wel in de Fischer pockets. Ik lees de Dialogen van Schmidt graag, de Brotarbeiten voor de radio. In het beste geval essays in Hörspiel=vorm, waarin Schmidt vol Witz via schrijversportrets zijn eigen literaire ideeën ventileert (lucht geeft). In het minste geval chronologische levensbeschrijvingen van vergeten schrijver in opstelvorm, waarbij om de vier regels de spreker wisselt en een derde stem de citaten voor 'r rekening neemt.
Een flink aantal van de Dialogen in de Bargfelder Ausgabe is niet opgenomen in de Fischer pockets met Funk=Essays – en die wilde ik eindelijk lezen.
Las zo gisteravond en vanochtend in de trein over Fouqué, Pape en May. Die over Pape is een van de mindere. Die over Fouqué voor mij 'handig' omdat ik vermoedelijk nooit van mn leven die dikke levensbeschrijving waaraan Schmidt zo lang werkte zal lezen, en wel wil weten waarom hij zo door hem is gefascineerd.
(En mij lijkt het een vreemde, maar significante vergissing / dwaalweg).
Die over May is voor een niet May-lezer in ieder geval informatief. (Ik heb nooit over Winnetou en Old Shatterhand gelezen). En een typisch Schmidtse eigenzinnige en 'einhellende' (?) verdediging – waar nogal wat tegenin te brengen is. (En pfff, wat moet Schmidt een onwaarschijnlijke hoeveelheid vijfdeklasseliteratuur gelezen hebben… – zie ook waarover hij in zn Spätwerk schrijft).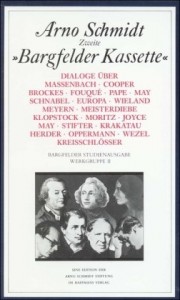 Aan het einde van de treinreis kwam een jongen van een jaar of 20 naar me toe: of ik nog goeie tips voor hem had, welke boeken te lezen… Euh… Joyce?
0 Comments
RSS for comments on this post.
sorry, the comment form is closed at this time.