Fietskarrondje. Koud. Behalve in de paar minuten toen de zon er door kwam. Ik trek nog steeds mn warme jack aan. Het was een graad of 12. In Marseille, aan de Middellandse Zee was het 18 graden. In Kirkenes, ver boven de poolcirkel, was het 21 graden. In Tromsø zelfs 23 graden. Het is daar, als ik me niet vergis, al weken warmer dan hier. Het was een fijn ritje, met een lange pauze in het 'Banjerbossie' (Diemerbos). Een groot voordeel van dit weer: het is overal rustig.
Marcusstraat – Amstel – Ouderkerk – Abcoude – Gein – Driemond – Diemerbos – Bijlmer – Marcusstraat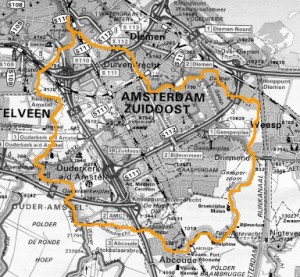 0 Comments
RSS for comments on this post.
sorry, the comment form is closed at this time.