De vorige LP die ik draaide, dat was op 7 september. Die dag zette ik deze LP naast de draaitafel. Pas vandaag draai ik 'm. Tweedehands gekocht, natuurlijk er is wat ruis, de plaat kraakt hier en daar, maar vergeleken met de mp3s die ik normaliter draai is de geluidskwaliteit.. directer, dieper, prettiger op mijn oren – en dat voor opnames uit 1943 en 1944. De ene kant speelt 'Pres' met een erg fijn kwartet, met Johnny Guarneri (piano), Slam Stewart – die natuurlijk ook meeneuriet als hij strijkt – en Sid Catlett. (Kan me herinneren dat ik dat vroeger mijn favoriete swingdrummer vond). De andere kant is met de Kansas City Seven (Clayton, Dickie Wells, Basie, Freddie Green, een zekere Rodney Richardson en natuurlijk Jo Jones). Was helemaal vergeten dat deze LP ook alternate takes bevatte – beter, het presenteert de 'original masters'. Lester Young is in topvorm. Van de liner notes: 'Lester Young, whose solutions to the problems of improvisation have always seemed both instantaneous and effortless'. Houden, en vaker draaien. Krijg er een goed humeur van. Vooral van de eerste kant.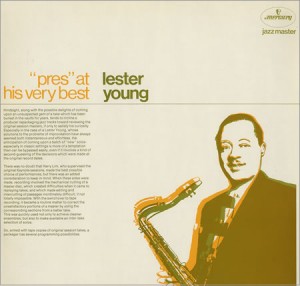 0 Comments
RSS for comments on this post.
sorry, the comment form is closed at this time.