Een mooie lange tocht op vrijdagmiddag (14:00-19:30). (F. & R. zijn in Ierland). Bewolkt, harde zuidwestenwind, soms heel hard. Eindelijk weer eens richting de duinen. Ik was denk ik a 2 of 3 jaar niet in de Kennemerduinen geweest, en ook niet bij de skiheuvel. Eerste deel van de tocht erg mooi – ook al begon het met een lang stuk door de stad. Dan de Bollenstreek. Dwars de Haarlemmermeerpolder door blijft een probleem – alleen de Groene Weelde, het Haarlemmermeerbos en de Geniedijk zijn echt mooi, de weg naar Lijnden is ook okee, maar dat ligt allemaal in de verkeerde richting. Dit keer koos ik 'ns om langs Schiphol te rijden – nooit gedaan. Geen goed idee. Volgende keer toch weer via de Kaag.
Marcusstraat – Apollolaan – Pieter Calandlaan – Ringvaart – Halfweg – Spaarnwoude – Inlaagpolder – Buitenhuizen – Skiheuvel – Driehuis – Kennermerduinen – Parnassia – Overveen – Kraantje Lek – Aerdenhout – Leyduin – Vogelenzang – De Zilk – Langevelderslag – Zilker binnenweg – Leidse Vaart – Bennebroek – Zwaanshoek – Groene Weelde – Haarlemmermeerse Bos – Schiphol – Amsterdamse Bos – Amstel – Marcusstraat
(Enige stukje op het kaartje dat ontbreekt is v.v. naar Langevelderslag.)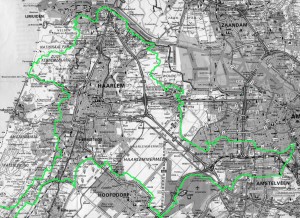 0 Comments
RSS for comments on this post.
sorry, the comment form is closed at this time.