Dit is misschien wel de beroemdste foto van Alfred Jarry, Jarry op zijn racefiets. (Is dit de Clément Luxe waarvoor hij nooit betaalde?)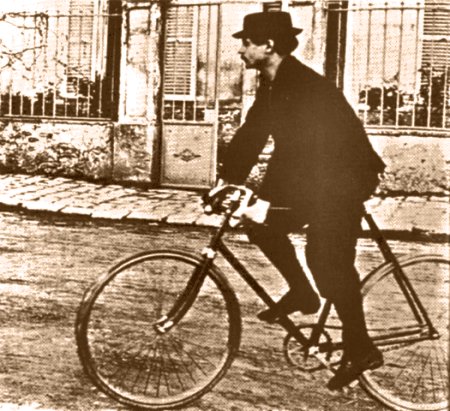 Ik weet niet of iemand het ooit heeft opgemerkt. Kijk eens naar die kettinglijn… De ketting hangt boven een heel klein beetje slap. Aangezien Jarry uiteraard op een fiets met een fixed achterwiel reed, kan 2 dingen betekenen:
1. Jarry trapt tegen. Hij gaat wel vooruit, maar zijn kracht is erop gericht de andere kant op te gaan. (Dit is meest waarschijnlijk. Hij kwam aangereden voor de fotograaf en remde af voor de foto).
2. Jarry rijdt achteruit.
Is er al een patafysicus geweest die dit heeft opgemerkt?
(Nee, Jarry staat niet te surplacen, zijn benen staan daarvoor niet in de goede positie).
(Ik stel me een lange studie voor waarin het hele werk van Jarry vanuit deze foto wordt geïnterpreteerd, en waarin onze geautomatiseerde, ingesleten foto-kijkgewoontes onderuit worden gehaald).
PS
Ik google 'sur place', image search – om zeker te zijn van bovenstaande bewering. Hit 8 – geen sur place, zeker geen sur place, maar wel een foto van mijzelf op de Sur Place tentoonstelling in Mediamatic, op een geleende mountainbike (met dicht voorwiel, voor fietspolo).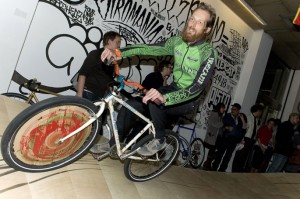 Bron: http://www.dusarchitects.com/projects.php?categorieid=curating&projectid=surplace
0 Comments
RSS for comments on this post.
sorry, the comment form is closed at this time.