's Middags wilde ik er tussenuit, prachtig herfstweer, zon, een graad of tien en weinig wind. R. wilde mee – het werk een rondje met de fietskar tussen twee en vier. Daarvoor al een stukje door de stad gereden met R. voorop, en daarna weer weg de stadsfiets (verjaardag J.). Die lusjes heb ik ook getekend – toch gauw een kilometer of vijftien extra.
Marcusstraat – Ouderkerk – Ronde Hoep – Nessersluis – Waver – Ouderkerk – Marcusstraat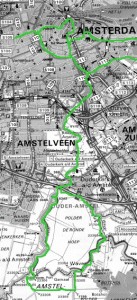 0 Comments
RSS for comments on this post.
sorry, the comment form is closed at this time.