Biografie van David Foster Wallace, oftewel DFW. Een manier om nog eens om diens werk te cirkelen, en te herlezen. Geen baanbrekende biografie vol nieuwe inzichten (alhoewel…niet alle aspecten van DFW's persoonlijkheid waren me bekend), zeker een goed werk dat nuttige achtergrond geeft, de feiten op een rij zet, en inzcht geeft in het leven van DFW. Een boek dat nergens in de verleiding komt om hinein te interpreteren, (al is daar aanleiding genoeg voor), en evenmin Wallace's werk vanuit de biografie te verklaren (waar ook genoeg aanleiding toe is). Prettige lengte (die lange biografieën lees ik nooit uit), en natuurlijk vol lege plekken en onzekerheden die een volgende biograaf, over een jaar of twintig maar moet zien in te vullen. Ik wil niet Wallace beter leren kennen, ik wil zijn boeken beter begrijpen, en een biografie als deze draagt daar aan bij.
Dat dacht ik eerst te schrijven.
Maar ondertussen is het ook een meeslepende en emotionerende biografie –.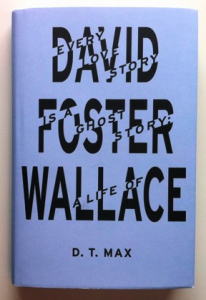 0 Comments
RSS for comments on this post.
sorry, the comment form is closed at this time.