Houden. Ook al is dit een grijsgedraaide tweedehands LP. De eerste van de Chris McGregor's Brotherhood of Breath, 1970, met Mongezi Feza, Dudu Pukwana, Nick Evans, Harry Beckett, enz. – 'propelled forward' door Harry Miller (bas) en Louis Moholo (drums). De stukken op Afrikaanse thema's swingen nietsontziend; de ietwat saaiere jazzdeuntjes worden uiteengereten door avontuurlijke solo's.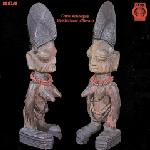 0 Comments
RSS for comments on this post.
sorry, the comment form is closed at this time.