Prachtig zomerweer. 's Ochtends naar Breukelen, 's avondsterug uit Rotterdam langs de Rotte, via Moerkapelle en Bodegraven naar Woerden. Heerlijk om een stuk te rijden waar je nog niet eerder bent geweest, of nog niet zo vaak eerder. En helemaal bij zulk prachtig zomerweer. De verleiding was groot om helemaal naar Amsterdam te rijden, maar omdat ik niet had gegeten en de wind pal noord was, leek me dat niet zo verstandig.
Marcusstraat – Amstel – Abcoude – Baambrugge – Loenersloot – Breukelen
Eendrachtstraat – Bergsche Plas – Rotte – Zevenhuizen – Moerkapelle – Boskoop – Bodegraven – Woerden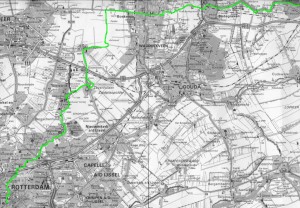 0 Comments
RSS for comments on this post.
sorry, the comment form is closed at this time.