Een fijn zomers zaterdagmiddagritje – of eigenlijk even tussen het werk door… Twee uurtjes had ik. 22 graden, zon, noordwestenwind (die draaide richting oosten), formidabel zomers (en een verspreide hevige bui, in de verte). Ik reed het stukje bij Hinderdam, waar ik bijna nooit kom omdat ik altijd afsla, het Googpad over. Mooi, dat stuk langs de Vecht, en omdat het voor mij zo relatief onbekend is, voelde het een beetje als vakantie ergens anders.
Marcusstraat – Weespertrekvaart – Bijlmer – Gaasp – Weesp – Vecht – Hinderdam – Nederhorst – Vecht – Weesp – Muiden – Diemerpark – Ringdijk – Marcusstraat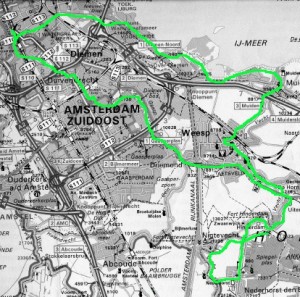 0 Comments
RSS for comments on this post.
sorry, the comment form is closed at this time.