Het was schitterend zomerweer. Hoogzomer. Ik besloot een dag vakantie te nemen. R. naar de crèche, kon ik een lange dag fietsen. Als ik om kwart voor zes thuis zou zijn, was ik nog juist op tijd om haar op te halen. Het was warm, de zon fel. Niet mijn favoriete fietsweer, wel een echte zomerdag en die wilde ik genieten. Ik besloot richting duinen en zee te rijden – Langevelderslag, Noordwijk, Katwijk, Meijendel. Dat was het plan. Factor 20 zonnebrand, 11 uur vertrek.
Plan uitgevoerd. Ik reed naar Langevelderslag (via Uithoorn, de Kaag en de Keukenhof) en vanaf daar richting Noordwijk (mooi stuk), Katwijk (minder), en ik had juist genoeg tijd om Meijendel te halen. De moeite waard.
Het was erg druk op het fietspad door de duinen. Dagjesmensen. Strandgangers. Vakantiefietsers die de LF1 deden (bijna altijd veel te vol beladen). Weinig wielrenners.
Ik was van plan het fietspad heen en weer te rijden (verreweg de mooiste route), en terug over Zandvoort en Bloemendaal, maar de drukte irriteerde me op den duur, bovendien ging de tijd dringen. Ik reed over Wassenaar, en daarna door de Bollenstreek.
Ik was te lang in de zon, ik dronk waarschijnlijk te weinig. Ik reed te hard. Ik was helemaal op toen ik thuiskwam. Nog net op tijd om R. op te halen.
Nu ik het kaartje maak, zie ik dat ik geen scans heb van de duinen zuidelijk van Noordwijk. Ik zoek Katwijk en Meijendel op mijn blog en concludeer dat ik al sinds 2006 niet tot voorbij Noordwijk ben gereden. Dat verbaasd me. Waarschijnlijk ben ik überhaupt maar 3 of 4 keer zo ver gereden… In mijn herinnering reed ik vroeger toch zeker eens per jaar tot Meijendel.
Marcusstraat – Amstel – Uithoorn – Vrouwenakker – Bilderdam – Leimuiden – De Kaag – De Engel – Loosterweg – Keukenhof – Ruygenhoek – Langevelderslag v.v. – Noordwijk (door bos en duinen) – Katwijk – Meijendel – Wassenaar/Kievit – Duinrell – Katwijk – Noordwijk – Ruygenhoek – De Zilk – Vogelenzang – Leiduin – Cruquius – Vijfhuizen – Boesingheliede – Oeverlanden – Beatrixpark – Marcusstraat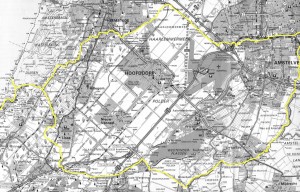 0 Comments
RSS for comments on this post.
sorry, the comment form is closed at this time.