Zondagmiddag, zon, 20 graden, fijn zomers. Rondje met R. in de fietskar achter de racefiets – dat geeft toch een nieuwe dimensie, of is een andere manier van fietsen: met een pauze halverwege aan het water, lekker in het zonnetje, banaantje eten, stukje lopen, wijzen naar de eendjes. En ik rij toch snel twee tandjes lichter met die fietskar – zeker tegen de wind in. Een klassiek rondje Ronde Hoep nam nu de tijd van kwart voor vier tot bijna zes uur.
Marcusstraat – Amstel – Ronde Hoep – Amstel – Marcusstraat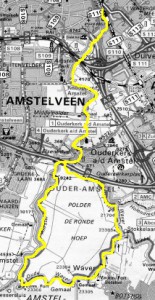 0 Comments
RSS for comments on this post.
sorry, the comment form is closed at this time.