Eindelijk gelezen: Timothy Morton's tweede boek The Ecological Thought, (en daarvoor het begin van Ecology Without Nature). Dark ecology, niet het groene-let's-preserve-the-environment-denken, maar een radicaler uitgaan van de verbondenheid van alles met alles. Ik weet niet zeker of ik het in alle opzichten eens ben met Morton, maar zijn filosofisch voorstel brengt ons veel verder dan de traditionele 'groene' politiek (in het voorstellen van de wereld, en een toekomst).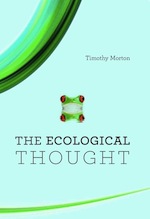 Tim Morton – as you might know – blogt en zet lezingen en lessen online: ecologywithoutnature.blogspot.com/
0 Comments
RSS for comments on this post.
sorry, the comment form is closed at this time.