The New North heeft als ondertitel The World in 2050. Het is een populair wetenschappelijke studie – hier en daar wat Amerikaans in stijl (d.w.z. hoofdstukken beginnen met persoonlijke anekdotes), maar met nette en zeer uitgebreide noten die een kwart van het boek beslaan en waarin de verwijzingen staan naar de wetenschappelijke gegevens & artikelen.
Ik ga het hier niet samenvatten (recensies genoeg te vinden). Gebaseerd op data over klimaatverandering, demografie, economische ontwikkeling, energieverbruik en internationele wetgeving, schetst hij een overtuigend beeld van de nabije toekomst. Smith is geograaf en heeft veel onderzoek gedaan naar klimaatverandering in het Noordpoolgebied. The New North focust dan ook op de ontwikkeling van dit gebied. Het Noordpoolgebied bevat de grootste voorraad olie & aardgas (bij de huidige ontwikkeling blijft de economie daar in de komende jaren nog meer van afhankelijk dan we al zijn), door de opwarming worden scheepvaart en ontginning steeds minder moeilijk, en ten derde: er is een enorme politieke en culturele dynamiek in dit gebied, gevoed door de grotere onafhankelijkheid van Nunavut en Kalaallit Nunaat (sorry, ik kan het niet laten om dat te schrijven in plaats van Groenland). Nu staat Smith als geograaf eerder aan de ecologische kant dan aan de kant van de investeerders, maar hij schets zowel de negatieve als de positieve effecten van deze (onstuitbare) ontwikkeling.
Weinig in het boek was echt nieuw voor me (qua grote lijnen dan, details wel) – maar als geïntegreerde blik: erg goed.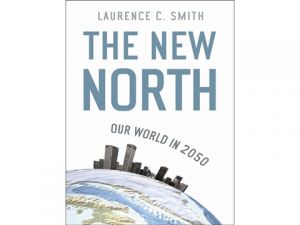 0 Comments
RSS for comments on this post.
sorry, the comment form is closed at this time.