Treinlectuur. Zo'n boek waarvan je eigenlijk niet zeker weet of je het nou ooit gelezen hebt, of toch niet. Je weet precies waar het over gaat, want het wordt allemaal vaak genoeg aangehaald, de 1.000 kilometerrace van de vijfmansfiets tegen de trein, enz. Maar nu kan ik echt zeggen: ik heb het gelezen. In de lekker bekkende vertaling van Gerrit Komrij. (Die voorziet de beschreven fiets wel van een terugtraprem, maar dat lijkt me sterk. De terugtraprem werd weliswaar in 1898 uitgevonden, maar in Jarry's tijd reed men gewoonlijk op een doortrapper – er zal in het Frans wel iets hebben gestaan als 'tegentrappen').
(Tegentrappen is wat je doet als je te snel gaat op een doortrapper. De pedalen blijven voorwaarts gaan, maar jij zet kracht in tegenovergestelde richting).
Superman werd uitgegeven in die mooie Meulenhoffreeks van begin jaren zeventig, roze, met inleiding en achtergrond op de schutbladen.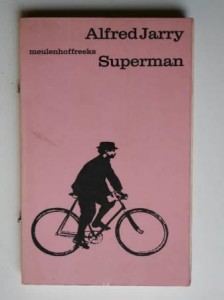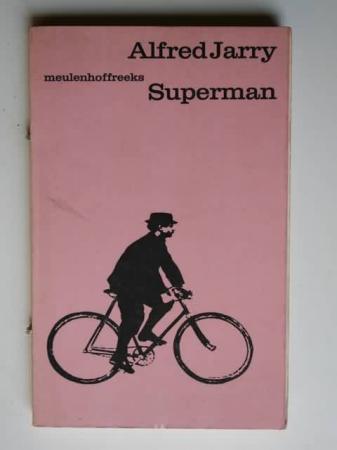 0 Comments
RSS for comments on this post.
sorry, the comment form is closed at this time.