Wat me er aan herinnert dat ik wat dingen waarmee ik druk bezig ben onder de aandacht moet brengen…
Het Sonic Acts boek waaraan ik de afgelopen tijd heb gewerkt (304 pagina's) ligt bij de drukker. Op 23 februari is het er, op de eerste dag van het Sonic Acts festival: www.sonicacts.com.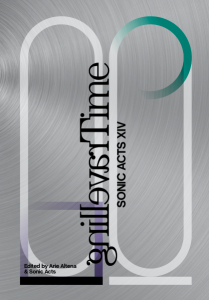 Interviews met CC Hennix, Pauline Oliveros, Joel Ryan, Mark Fell, Gilles Aubry, Keith Fullerton Whitman, Hilary Jeffery, Robin Hayward. En een boel essays, onder andere van Hillel Schwartz en Omar Muñoz-Cremers.
Nu de voorbereiding en fine-tuning van de conferentie – en de laatste dingen voor het zondagavondprogramma met o.a. Michael Pisaro, Taku Sugimoto, The Pitch en Robin Hayward.
En er zijn masterclasses – met CC Hennix, Pauline Oliveros, Peter Kubelka, Olaf Nicolai en Tino Sehgal. Eenmalige kans… Opgeven voor de 12e door een cv en een korte motivatie waarom je wilt deelnemen aan een specifieke masterclass: masterclass@sonicacts.com.
En – maar daar heb ik helemaal niets voor gedaan – ook uit, Catherine Christer Hennix and The Chora(s)san Time-Court Mirage
Live at the Grimm Museum. Uitgave van Sonic Acts ism Important Records. 49 minuten drone uit een bijna andere dimensie.
0 Comments
RSS for comments on this post.
sorry, the comment form is closed at this time.