Nieuwjaarsdag en ik was duidelijk niet de enige die op het idee was gekomen om een mooi tochtje te maken. 12 graden maar liefst, en daarmee extreem zacht, fikse zuidwestenwind en wat somber door de zware bewolking. Lichte regen aan het einde van de middag (daarna begon het te gieten). Lekker gereden, van 13.00 – 16.20.
(De jaarwisseling bracht ik door met overtikken van citaten over tijd uit Thomas Pynchon's Against the Day, terwijl – bij het open raam (het was warm genoeg) naar het geknal & gefeest luisterde. Ik had daar zoveel plezier in dat ik na een half uurtje vuurwerk kijken op het dak besloot er nog een uurtje of anderhalf mee door te gaan. Daarna 40 pagina's uit Jan Brandt's Gegen die Welt gelezen. Mijn gezelschap – F. & R. – is nog in Ierland. Vandaar).
Marcusstraat – Amstel – Ouderkerk – Nessersluis – Amstelhoek – De Hoef – Woerdense Verlaat – Geerkade – Veenkade – Uitweg van Portengen – Boterwal – Nieuwer ter Aar – kanaal – Fort Nigtevegt – Abcoude – Ouderkerk – Amstel – Marcusstraat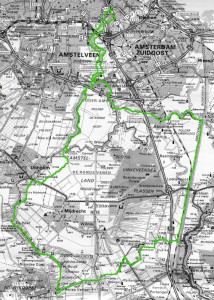 0 Comments
RSS for comments on this post.
sorry, the comment form is closed at this time.