Nog steeds heel zacht herfstweer (11 uur 's avonds en de buitenthermometer geeft 11 graden aan). Zonnetje en wolken en nu wel harde en strakke warme zuidwestenwind. Een bruggetje aan de kanaaldijk, vlakbij Ilpendam, zong. De wind raakte de brug precies goed en zorgde voor een heel iets fluctuerende drone met soms wel drie of vier verschillende tonen en toonhoogtes.
Getekend ziet de route er heel logisch uit, ze voelt onlogisch, ook omdat ze voor een groot deel door de stad voert – wat in dit geval prettig was gezien de harde wind. Volgens de tekening ze erg noord-zuid gericht, maar ik had al fietsend de indruk hebt dat het eerder ging over hoe ik een goeie route kon maken via het Twiske, daar in het 'westnoordwesten', wat dus eerder het noorden is.
Marcusstraat – Schellingwouderbrug – Schellingwoude – Nieuwendammerdijk – Vliegenbos – Noord-Hollands kanaal – Den Ilp – Twiske – Kadoelen – Nieuwendammerdijk – pont – CS – Marcusstraat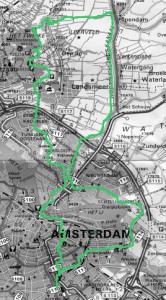 0 Comments
RSS for comments on this post.
sorry, the comment form is closed at this time.