En zo tussendoor ga ik wel eens langs bij de Openbare Bibliotheek om een vers stapeltje boeken (en DVDs voor F.) te halen. Zo kom ik dan thuis met de nieuwe uitgave van LP Boon's Niets gaat ten onder – omdat ik echt graag de nawoorden van die uitgaves van zijn Verzameld Werk lees, en dan nog wat grasduin in de roman. Of ik leen een vertaling van Jarry's Ubu Roi omdat ik me realiseer dat ik dat nooit heb gelezen. Ik lees het, het is leuk, ik begrijp het belang van Jarry voor de theatergeschiedenis, maar Ubu is niet 'mijn ding' – ik ben meer geïnteresseerd in Jarry de wielrenner. En ik zie Stemvork liggen, een bundel essays van Arnoud van Adrichem en Jan Lauwereyns (en Han van der Vegt) – helemaal aan mij voorbijgegaan.
Stemvork moet ik nog lezen – tot nu toe twee essays helemaal gelezen en verder gegrasduind. Alleen al een doorlichting van hun werkmethode verdient een artikel van minstens 3000 woorden, waarbij de methode Adrichem/Lauwereyns ook vergeleken kan worden met vormen van Google-essayistiek. Ik denk niet dat de methode Adrichem/Lauwereyns Google-essayistiek genoemd kan worden, maar hun methode vertoont er wel overeenkomsten mee, of ze zetten het vruchtbaar in. (Ik denk dat iedere hedendaagse schrijver begrijpt wat ik met Google-essayistiek bedoel en dat dat niet per se negatief hoeft te zijn. (Alleen zijn slechte Google-essays wel heel erg slecht, veel slechter dan slechte gewone essays – if ye catch me drift).) ((En overigens, hoe kun je nu als hedendaags essayist Google (als pars-pro-toto voor alle zoekmachines) niet gebruiken – je checkt uitspraken en bronnen en voor je het weet vind je weer meer en leer je weer meer. Gesteld dat je goed kunt googlen.))
Enzovoorts.
Zoveel te lezen.
Bestel Stemvork hier: http://www.uitgeverij-ijzer.nl.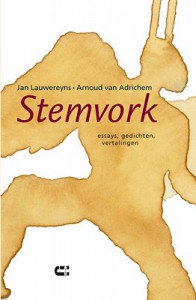 0 Comments
RSS for comments on this post.
sorry, the comment form is closed at this time.