Ook nog een en ander gelezen, tussendoor. 'Tussendoortjes', bijvoorbeeld een roman van een groot Duits schrijver die me altijd 'te gewoon' was. (Ten onrechte waarschijnlijk). Uit nieuwsgierigheid en als een soort test: zijn deze teksten het echt zoveel conventioneler? Leest het makkelijker? Lees ik zo'n roman uit? Heinrich Böll's Ansichten eines Clowns (1963) heb ik min of meer uitgelezen. De eerste 150 pagina's liet ik me meeslepen, daarna begon ik langzaamaan genoeg te krijgen van de jaren vijftig problematiek die Böll hier kundig en fel schetst. Terecht een klassieker.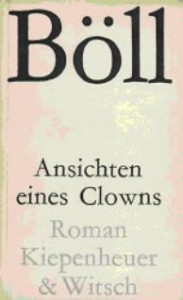 Gedachte: hoeveel dapperder en maatschappelijk uitgesprokener Böll was, in vergelijking met sommige (veel?) hedendaagse schrijvers.
0 Comments
RSS for comments on this post.
sorry, the comment form is closed at this time.