Maar 1 ding over zeggen: lezen!
Nieuwe vertaling van Gadda's La cognizione del dolore door Frans Denissen. Briljant, meeslepend, barok, moeilijk en spetterend. Als ik spijt heb dat het me nooit is gelukt om écht goed Italiaans te leren (ik heb ooit Italiaans gestudeerd), dan is dat niet omdat ik Dante niet in het orgineel kan lezen (dat lukt nog redelijk, met aantekeningen en wat hulp), maar dat ik het moet doen met de schaarse vertalingen van het werk van Gadda. Ik zou alles van hem willen lezen.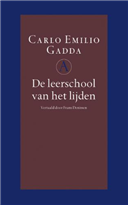 Dít was het echte leeswerk van de afgelopen tijd. En ik ben nog bezig in N30+ van Jeroen Mettes en DFW's The Pale King. Het eerste makkelijk te lezen (gewoon lezen, zin na zin na zin), het tweede van een Jamesiaanse moeilijkheid èn een pijnlijk boek.
0 Comments
RSS for comments on this post.
sorry, the comment form is closed at this time.