Laatste etappe (maar niet de laatst fietsdag). Het weer onveranderd. Op de Galibier heb ik erg goede benen en rijd voor de verandering eens niet op reserve (van Valloire naar de top in 1.32 – dat had minder kunnen zijn als ik in het begin harder had gereden). Weer lang op de col gerust en van uitzicht en 'koelte' genoten. Afdalen naar de Lautaret – hier keek ik 14 of 15 jaar geleden omhoog en twijfelde of ik nog omhoog zou rijden. Ik besloot dat toen niet te doen omdat de Izoard nog volgde. Nu ben ik boven geweest. Afdaling van de Lautaret: ik herinner me die klim als een bijna vlakke weg, maar het blijkt nog een echte col te zijn. De Sarenne is steil en in de hitte erg moeilijk, ik 'kruip' omhoog, maar geniet. Ook deze klim hoopte ik 14 of 15 jaar geleden nog eens te rijden. Weer lang rust op de top. In Alpe d'Huez (wat een lelijkheid) rij ik door tot de Col de Poutran en het Lac Bessons. Niet heel mooi, maar als je er toch bent… Afdalen naar Bourg d'Oisans.
Valloire – Galibier (2645) – Lautaret – Col de Sarenne (1999) – Poutran (1990) – Lac de Bessons – Alpe D'Huez – Bourg d'Oisans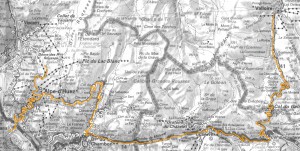 Galibier / www.cyclingcols.com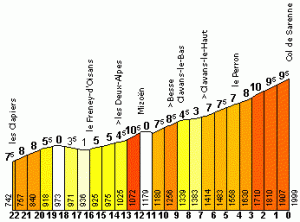 Sarenne / www.cyclingcols.com
0 Comments
RSS for comments on this post.
sorry, the comment form is closed at this time.