Perec wilde een perfect lineaire en onleesbare tekst schrijven op basis van een stroomschema. Een man wil opslag vragen aan zijn afdelingschef, is nerveus en overloopt alle mogelijke scenario's. Het ontspoort behoorlijk – in zijn hoofd. De herhalingen en variaties zorgen voor een vrolijk meeslepende leeservaring. Onleesbaar is de tekst bepaald niet. (Het nawoord beweert dat Perec alle mogelijkheden van het stroomschema uitput, of suggereert zoiets (ik heb de tekst niet bij de hand om het te checken), maar dat lijkt me geenszins het geval.) Oorspronkelijk uit 1968, onlangs vertaald door Rokus Hofstede & uitgegeven door de Arbeiderspers.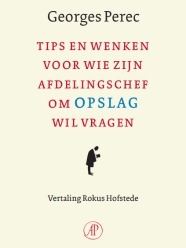 0 Comments
RSS for comments on this post.
sorry, the comment form is closed at this time.